If you are planning on saying "I do" in 2021, or even 2022, chances are you've already started the planning process. With all of the hopeful news about the COVID-19 vaccines, we are all beginning to see a little bit of light at the end of the tunnel. We can't wait for the floodgate of pent up demand for weddings and celebrations to swing wide open. After all, everyone deserves the wedding and reception of their dreams! The team at Scarborough Fare Catering and The Martinsborough, can make all of your wedding dreams come true.
If you're planning a 2021 or 2022 wedding, here are a few things we've noticed, and a few things we expect to see.
1. Couples are acting fast!
Keep in mind that more than an entire year's worth of wedding season was upended by the pandemic. Wedding venues, vendors, and suppliers have limited capacity left to offer you as they've been forced to fill so many 2021 dates with weddings that were originally scheduled for last year. The good news – The Martinsborough, located in beautiful uptown Greenville, NC, still has dates available for 2021 weddings!
2. Couples are opting for one location for both ceremony and reception.
We are noticing that couples planning weddings for 2021 and 2022 are opting for venues that allow for both the ceremony and reception at the same location. This makes it simpler on both the newlyweds and the guests! The Martinsborough offers space for the ceremony, reception, and our "salon" is perfect for an intimate cocktail hour!
3. Expect to see sanitizing stations.
We expect this to be a new staple at all weddings moving forward! Hand sanitizers set up around the event space will make you and your guests feel more comfortable. The Martinsborough will provide these!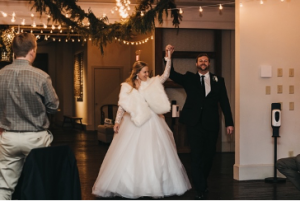 As you continue on your wedding-planning journey, we have one final tip for you:
Ask every single vendor about their COVID policies before you book and get it in writing in your contract. What are their safety requirements? What are their cancellation & postponement policies? Here's the deal, wedding pros are people too and many are understandably uncomfortable working weddings in a pandemic. You don't have to like their policies, but if you want to work with them, you do have to respect them. So, it's better that you get this info on the front end instead of feuding with a vendor after they are booked.
Contact The Martinsborough today to get started on planning your 2021 or 2022 wedding!